How Does Self-Storage Work?
You've got extra stuff. Maybe you inherited it, maybe you're moving into a smaller space, maybe you're traveling and don't need it. The point is - you need somewhere to put it. You could hire someone to haul it away but learning how self-storage works only takes a few minutes.
Self-storage means that you pack, transport and store your belongings in a rented space all on your own. Self-storage is an easy and inexpensive solution for people who simply need an extra space – like a ginormous extra closet. But how does self-storage work? It's not that difficult but you do want to make sure your belongings are safe and secure. We tell you how.
What Type of Storage Unit Do You Need?
The first step in using self-storage is to determine your needs. This includes the storage unit size and the features you need to safely store your belongings. Not sure? Here are some considerations:
Size. How big should your storge unit be? You want to be able to fit everything comfortably, but you don't want to pay for extra unused space. Luckily, Storelocal has a handy size guide that walks you through the various unit sizes to determine whether you need that small 5X5 locker for overflow or if you need that 10X20 to hold your entire apartment while you're backpacking in New Zealand.
Climate control. Storage units may be inside or outside depending on the facility. Most indoor storage facilities offer climate control which prevents mold, mildew and temperature-related damage to your stuff. If you're storing delicate or valuable items like art, electronics, books, collections, memorabilia or textiles, you may want to consider a unit where the temperature and humidity remain constant.
Security. All storage facilities will have some sort of security. Make sure the one you choose feels safe, especially if you're visiting it at night on your own. Also be sure that your belongings feel secure. Look for coded entries and elevators, security cameras and steel doors. If your facility doesn't provide a cylinder lock, invest in a solid lock that's difficult to pick or cut.
Accessibility. Is an indoor or outdoor storage unit better for your needs? Is a unit on the third floor an issue? What hours are they open? Are there carts and dollies available for heavy items?
How to Choose a Storage Facility
Once you know the size and features you need, narrow your search down to options near you. For a list of storage units near you, try Storelocal's location finder.
Location. When the temperature drops and you realize your favorite winter coat is in storage, you want to be able to retrieve it without too much hassle. Choose a location that is near you. If you're moving, you probably want a storage facility near your new residence.
Insurance. Most storage companies require their tenants to provide insurance. You can either purchase insurance or the facility's protection plan as part of your monthly fee.
Price. Make sure that you can afford your storage unit. Prices vary by location and size. Factor in how long you'll be renting your unit and plan your budget accordingly. Make sure your leaser is upfront about any additional costs. Affordable self-storage shouldn't be a burden.
Type of Lease. Most storage is conducted on a month-to-month basis and often you can sign your lease online. Make sure you understand your lease and all your obligations before you commit.
Reviews. Online reviews from sites like Yelp and Google can help you determine how safe and well run a facility is.
You've Found the Right Storage Unit for You. Now What?
Congrats. If you want to see the unit before you sign, schedule a time to go in person. If your facility offers an online lease, you can register from your couch. After you make your first payment, you're ready to say goodbye to clutter and hello to peace of mind.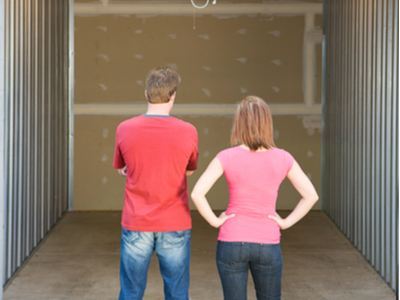 Go into your unit prepared by having your things organized and packed beforehand. For tips on how to get the most out of your unit, check out our blog on how to pack your storage unit. Make sure you know what all is going into storage and leave yourself a path to access it.
Every month you'll get an invoice. If you've set up autopay, you're good indefinitely. When it comes time to cancel your lease, review how much notice you need to give. Make sure you give yourself enough time to empty your locker out.
Self-Storage Simplified
Welcome to Storelocal. We make the storage process as simple and easy as possible. Contact us today to find the perfect storage unit near you. If you have further questions, we're always happy to answer.